"Should I do group classes or hire a personal trainer?"
It's one of the most frequent questions we get from friends and family outside the fitness business. Of the many fitness formats out there, each has benefits, each has drawbacks, and there is no one product that's right for everyone. Sometimes, all the choices can be daunting.
That's why we've put together this "insider's guide" to the different fitness formats available, to help you decide which is the best fit for you.
Personal Training
Personal training has been the fitness industry's staple product for many years. Hiring an individual trainer is still a great option for a lot of people.
In personal training, a trainer will assess your fitness level and design a program exactly around your needs (If your trainer jumps right into workouts without assessing first, or doesn't have a program designed for you, that's a MAJOR red flag). You'll schedule sessions, usually directly with that trainer, and then that trainer will guide you through workouts. Having a trainer also gives you the chance to build a relationship with someone who knows you well, and can answer questions and problem-solve as needed.
It's important to note that the competency of personal trainers varies tremendously. Some personal trainers got their certification in a one-day course; others have four year degrees in exercise science. Hiring a bad trainer can be worse than not hiring a trainer at all. As the old saying goes "If you can't afford a professional, you DEFINITELY can't afford an amateur." In terms of lost time, lack of results, and injury risk, hiring a cheap personal trainer just isn't worth it.
Pros: Customized, intimate and personal. Great for people with very specific needs or goals, or those who prefer lots of 1:1 attention.
Cons: Scheduling can be inflexible if the trainer is busy. Expensive. Can get stale or boring to spend an entire hour with the same person.
Large Group Fitness
Large group fitness, for example bootcamps, sports conditioning classes, cardio kickboxing, or hip-hop dance, can be a fun, high energy way to get your sweat on. Scheduling is typically very easy (in some cases as easy as just showing up at the appropriate time). Being in a large group of people where everyone is doing the same thing with music blasting can be a very fun experience.
The downside of large group fitness is the lack of individualized attention and planning. You won't get as much technique instruction, and it's extremely difficult for one instructor to monitor an entire room at once. There's also a lack of weekly, monthly, and yearly planning—the exercises stay the same, regardless of your progress.
Pros: Fun. Easy to schedule. Lots of variety. Access to different instructors.
Cons: Not individualized. Lack of coaching on exercise technique. Does not progress or change over time.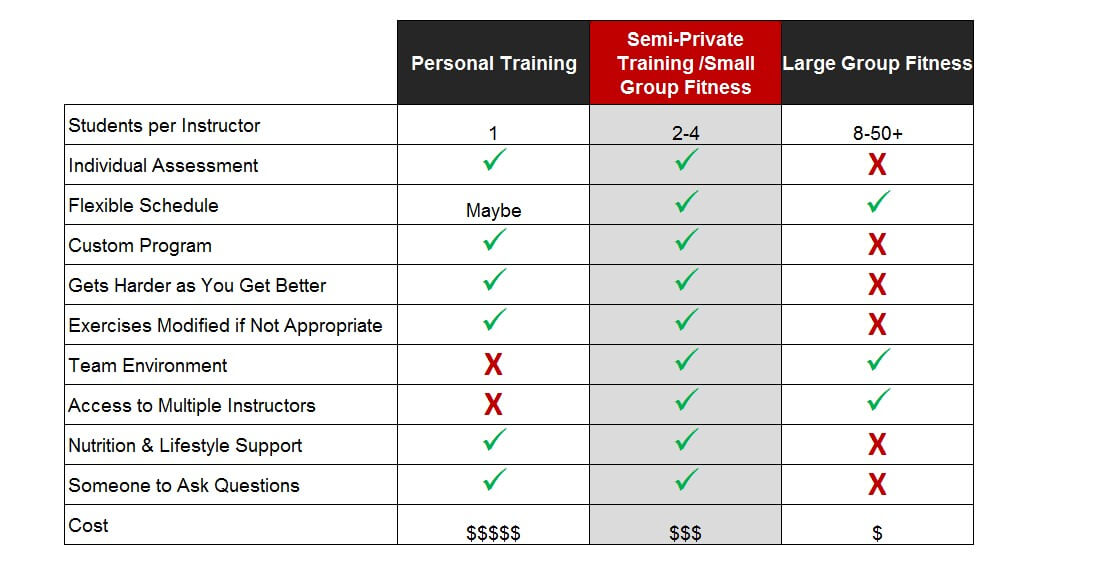 Semi Private Training / Small Group Fitness
Semi-Private Training can offer many of the benefits of personal training such as individual assessment, lots of coaching, and a customized program. It also offers some of the features of group training, such as a flexible schedule (many options per week) and a fun team environment.
Different gyms do semi-private training or small group fitness in different ways, so it's important to find a facility that's a good fit for you and your needs. At Catalyst, we start off with an individual assessment and program design session, just like in personal training. From there, we write the member a customized program, which they'll perform under the guidance of an expert trainer who will teach technique, monitor form, and help decide when to progress or regress exercises.
If you're interested in learning more about our Semi-Private Training program, just fill out the form in the top right, and we'll give you a call to see if it's a good fit.
Pros: Individual program. Flexible Schedule. Team of trainers to support you. Affordable.
Cons: Semi-Private Training requires you to be a little more self-directed than personal training. While you'll have plenty of support, you'll also need to take some ownership.